One thing that's true in both life and financial markets is that things change, but patience and foresight can help positively influence those changes.
At Laurel Wealth Planning, we've been helping people make informed choices about their finances for almost 25 years. Because we have no intentions of slowing down, we are building a structure and team that will help our clients for years to come.
Creating Continuity
Every two weeks, the LWP management team meets over breakfast at Perkins. More than just a pleasant morning, this is a critical part of how we work together. First, we catch up on life, because we care about each other as people. Then, we discuss priorities, share progress or roadblocks on projects, and generally ensure we're all working towards the same goals.
By regularly checking in and making decisions together, we make progress on our business goals. This coordinated effort lets our wealth managers focus most of their time on the day-to-day work they love most: helping clients find confidence and delight in their financial decisions.
It also means if any one person on the team were to leave or retire, the LWP standard of service and advice would continue.
So, who is on the management team?
Laura Kuntz
First is Laura Kuntz, CPA/PFS, MBT, senior wealth manager and founder of LWP. (Favorite breakfast order: An everything omelet.)
Laura primarily works with clients to help them build and maintain their wealth in a way that aligns with their values. That could be helping them create the right investment portfolio, channel their charitable giving, secure finances for their children or grandchildren. Whatever their goals, Laura is there to help.
"I find this role very fulfilling," she says. "I've raised my kids and this business, and really, this a lifestyle, not a job."
With over 30 years in the industry, Laura drives a lot of the vision of the business and offers guidance and mentorship when needed. She is also deeply committed to Laurel Wealth Planning's values.
"A lot of our clients view their wealth management as stewardship, and we take that really seriously," she says. "We're here to help people feel in control of their own destiny, and to do in a way that is ethical and honorable."
Mallory Kretman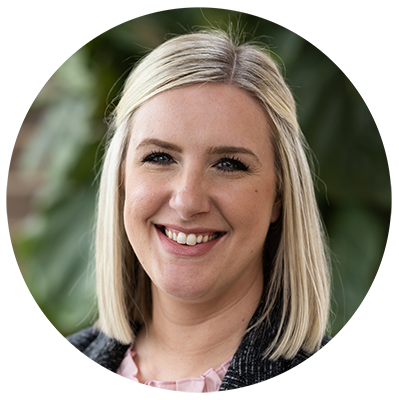 Next is Mallory Kretman, CFP, wealth manager and shareholder. (Favorite breakfast order: An everything omelet for her, and sometimes a "surprise muffin" to go for her son.)
Like Laura, Mallory primarily focuses on helping clients manage their financial decisions. Mallory realized while working retail throughout college that she loved working with people. When she set out to find a full-time career helping people, she found it at Laurel Wealth Planning.
"What I love the most is when people feel overwhelmed or anxious and I can take that burden from them," she says. "I can let them know they're not alone, they have a partner, and they don't have to worry. It's the best part of my job."
Mallory started at the firm 12 years ago. She's seen every aspect of the business, which helps her as she's developing strategies for her clients.
And when it comes to the management team, she says the biggest takeaway is being collaborative. "Our clients are clients of the whole firm, so everyone on the management team cares and wants to help," she says. "We all jump in to help, because we're all committed to finding solutions."
Jesse Kuusisto
Jesse Kuusisto, CFP, is the management team's third wealth manager. (Favorite breakfast order: A chorizo, egg, and cheese breakfast burrito.)
Jesse, who started at LWP six years ago, has been interested in investing since high school. While he has an analytical mind and enjoys the numbers side of investing, the most fulfilling part of his career is working with people.
"I love getting to know people, and I can be more effective when I know my clients well," he says. "I really think of this as a helping profession."
In addition to working directly with clients, Jesse also manages investment operations for the firm. That means he studies investing trends, evaluates investment tools, and ensures that investment recommendations are implemented properly.
"There are constant changes in this industry," he says. "So you have to stay on your toes and evolve your strategies, and I really appreciate that I get to focus on that."
Katie Then
The fourth member of the management team is Katie Then, client service and operations manager. (Favorite breakfast order: Eggs, turkey sausage and fruit.)
Katie focuses on behind-the-scenes operations and projects, ensuring the company is running smoothly so the wealth managers can focus on their clients.
"I get to work with numbers all day," she says, "but the best part is I'm always learning something new."
Katie has loved math since the fourth grade, and when her dad suggested she look into financial planning, she knew it was a great fit. After spending 18 years at a small wealth management firm, she moved to LWP for the opportunity to focus more on operations.
"I've really gotten a new perspective since working here, and I love our team. I am excited to keep learning and growing."
Katie's focus, like the rest of the LWP management team, is on keeping clients happy, and she sees a bright future ahead.
"We have a great future, and I can't wait to see what's next," she says.
The best investment strategies are those that create a sustainable future. Laurel Wealth Planning is applying that same principle to itself, creating a sustainable future with a dedicated management team that is ready to tackle whatever the next 25 years (and beyond!) might bring.
Laura, the founder of LWP, is a Senior Wealth Manager, Chief Investment Officer and Shareholder. She has a master's degree in tax and is an excellent listener. While she is a sophisticated financial planner with experience in complex issues, her priority is ensuring a financial plan works for people.