As I approach my 10th anniversary with Laurel Wealth Planning, I've been reflecting on the choices and people who led me to where I am today.
In 2010, I set out to find a job where I could help people and put my recently gained college degree to use. I chose LWP because it had a career track, but becoming a company shareholder within eight years wasn't really on my radar.
How did I get to this point? Hard work, motivation and perseverance certainly have been big parts of the journey, but I can't overstate the importance of the mentors in my life.
Mentoring by example
My dad was my first mentor. As a single father of five, he was the rock of the family. He set the tone for us kids by modeling a good work ethic, setting high expectations, and stressing the importance of doing the right thing for the right reasons.
LWP's founder Laura Kuntz has been my other significant mentor. Like my dad, she leads by example. She models the kindness, compassion, humility, hard work, and top-notch client service she expects from all team members.
As I worked my way up to the high LWP standards, Laura was patient in giving me the training and support I needed to reach them. She encourages all of our team members to use their gifts and truly delights in seeing us succeed.
Seeing the potential
Laura's leadership, guidance, and encouragement were key along my financial planning career path. She saw the potential in me even when I couldn't see it in myself.
I was the client service manager at LWP when Laura encouraged me to obtain my Series 65 License. She then thought I could go the next step and start working toward a Certified Financial Planner certification. I thought getting a CFP® would help me become a successful paraplanner, helping clients by preparing reports and managing plans behind the scenes.
Toward the end of my CFP work, Laura coached me to begin thinking like an advisor. I was concerned about the heavy responsibility of advising people on how to handle their life savings. Like many perfectionists, I was inclined to wait until I knew I could do the job 100% right, 100% of the time. Laura gave me the push I needed to see I was up to the task.
Her mentorship to me and others in our firm is one of the key reasons behind my nomination of Laura as a 2020 Top Women in Finance in Minnesota. She was one of 20 women to receive this honor from Finance & Commerce in November.
Growing through life's ups and downs
There have certainly been difficult moments in the past 10 years. That includes one of the hardest times in my life: my dad's death. These terrible valleys, once overcome, make the peaks even more beautiful. The beautiful peaks include starting my own family. I hope I can be the mentor and example to my son that my dad was to me.
I am grateful that my dad saw me graduate from college and start my career at Laurel Wealth Planning. I'm grateful that I found another wonderful mentor before losing my first mentor.
My life experiences and my mentors have helped me mature as a person, cultivate my skills, and gain confidence in my ability to serve others. I am grateful for that — and I look forward to another 10 years of growth, service to others, and beautiful peaks.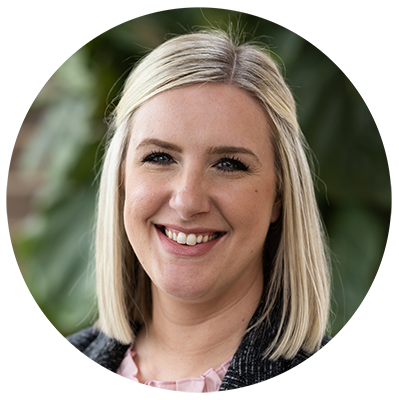 Mallory is a Wealth Manager and Shareholder. She listens deeply and helps simplify complex financial situations to help clients move into an easier, clearer future. She aims to give financial advice that is compassionate, wise, and easy to understand.