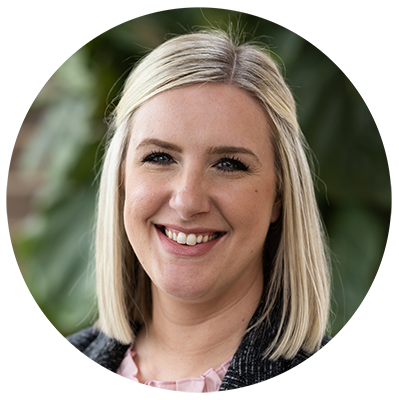 Schedule a no-cost discovery call with an advisor today.
Mallory Kretman, CFP®
Wealth Manager / Shareholder
"I was drawn to Laurel Wealth Planning because of our emphasis on the importance of each client. I love being part of an environment that truly values the relationships we are building and a commitment to results."
Mallory Kretman serves our clients as a Wealth Manager, focusing on meeting our clients' goals through deeply knowing them. She aims to give financial advice that is compassionate and easy to understand.
In serving and advising our clients, Mallory leverages her own skills and those of team members who specialize in investments, taxes and estate planning. She is also the firm's point person for all work related to SEC-compliance.
Mallory joined Laurel Wealth Planning in 2011 in client service. Her dedication to our clients and our values, along with her strong initiative, have earned her regular promotions.
Mallory is a Certified Financial Planner (CFP®) and is fully licensed.
She earned her Bachelor's degree from the University of Wisconsin-La Crosse. Due to her broad interests, she studied the liberal arts, and she graduated with high honors. At college, she was invited to membership in the Golden Key National Honor Society, National Scholars Honor Society and Eta Phi Alpha Honors Fraternity. Mallory paid for her college tuition and living costs by working many hours at a retail clothing store.
Mallory's wisdom comes from more than formal study and professional experience. Raised by a single father, Mallory was devastated to find out in her mid-20s that he had terminal cancer. Mallory moved home to look after her father and younger sister. She coordinated with hospice, assisted with his care and was with him as he passed. After she and her siblings coordinated his funeral, she remained at home for several more months to support her sister.
A few years later, her grandmother required nursing home care. Again, the family turned to Mallory. She became the main point of contact with the nursing home, organizing her grandmother's financial matters and making sure she was comfortable until her passing. Mallory credits these experiences for giving her strength, perspective and compassion.
Mallory and her husband, Hank, welcomed their first child, Henry, in February 2020, and their second child, Ellie, in August 2022.
She is a wine enthusiast who has toured vineyards in France's Loire Valley and Champagne region. She also enjoys "the little things" in life, like a strong cup of coffee and spending quiet nights at home with her family and their yellow lab, Penny.
Mallory Kretman's Activities
Speaker, "Client Financial Well-Being Post-Divorce," March 2019. Featured speaker at the annual Family Law Institute. Mallory provided expert financial planning information on post-divorce planning checklists and resources to family attorneys and other family law experts.
Mallory Kretman's Credentials and Licensing
Certified Financial Planner (CFP®): Signifies substantial training and experience in financial planning, as well as an expectation of practice according to rigorous ethical standards.
Series 65 License: Licenses the holder to give investment advice.
Schedule a no-cost discovery call with an advisor today.